The METCC (Mid-East TN Community Chorus) is a revitalization of the Athens Community Chorus that last gathered over 5 years ago. We are so excited to be singing again! Our mission is to provide high quality musical experiences for performers and audiences in the greater Mid-East Tennessee area. Our home is at Tennessee Wesleyan University in Athens, TN under the direction of Dr. Marius Bahnean. We are currently preparing Dan Forrest's Requiem for the Living which will be performed May 24, 2022, 7 p.m. at First Baptist Church of Athens.
Currently, METCC has launched a donor and advertisement campaign to help offset costs of the chamber ensemble that will be playing with us. Our goal is to raise $2,500 with this campaign. This is a great opportunity for your business to gain additional visibility in the community through our concert program, external advertising, and social media and to help METCC reach its budget needs, as well.
We hope that you will consider partnering with us and purchasing an ad for the upcoming concert program. If you don't own a business, we hope that you will consider making a modest donation. Either way, please consider this your personal invitation to attend the performance!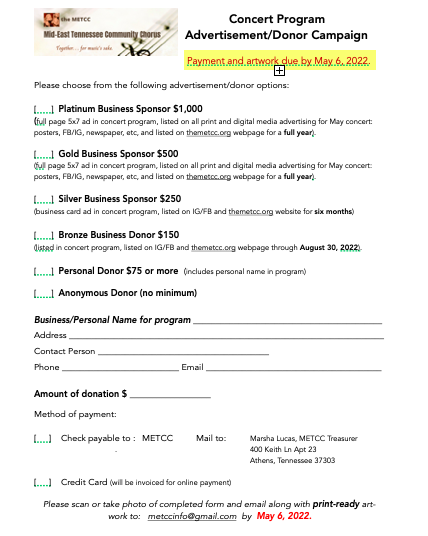 For full details please contact our Treasurer, Marsha Lucas: (423) 920-7453,
Browse our
existing sponsors